(203) 221-0828
With a purchase of a Realtyview Photo Session, you receive a FREE listing on Realtyview.net Display. RealtyView.net Display is a interactive real estate website that features an easily-navigable display of high-end, detailed, large-format photographs of every room in the house encased, with complete property information, in a comprehensive, clean and very easy-to-read display format.
Home tours from home
Buyers get the best home tours at their desktop. Realtyview.net displays a whopping 8 inch x 5 inch photos onscreen--among the largets in the industry. nearly unlimited photos.
Your properties where you want them
Realtyview.net can display your own listings on your website with custom fonts and colors—stand out from other real estate websites.
View our Realtyview Listings Display, then call (203) 221-0828 or email bah@realtyview.net .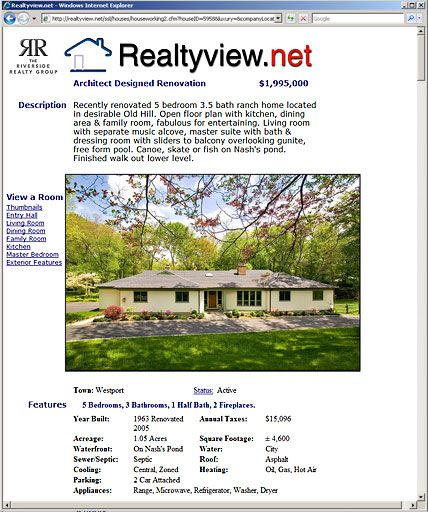 Listings posted online are the most important marketing activity according to 81.6% of Real Estate Company agents' surveyed